Lost Boy Grown - Valentino Deng
VALENTINO ACHAK DENG
"Lost Boy" Sudanese Genocide Survivor and collaborator on the best-selling
book written by Pulitzer-Nominated and best-selling author DAVE EGGERS

WEDNESDAY, FEBRUARY 21, 2007, 7:00 p.m.-9:00 p.m., Tangeman University Center

Books will be available at the event for purchase and signing by Valentino Achak Deng

For more information about the genocide and civil war in Sudan and
Valentino's journey out of Sudan to America: http://www.valentinoachakdeng.com/

Sponsored by: Topics in Literature Class 202 (Section 901)
and Mary Curran-Hackett, Adj. Faculty English Dept.
and Book Editor, St. Anthony Messenger Press
mcchackett@fuse.net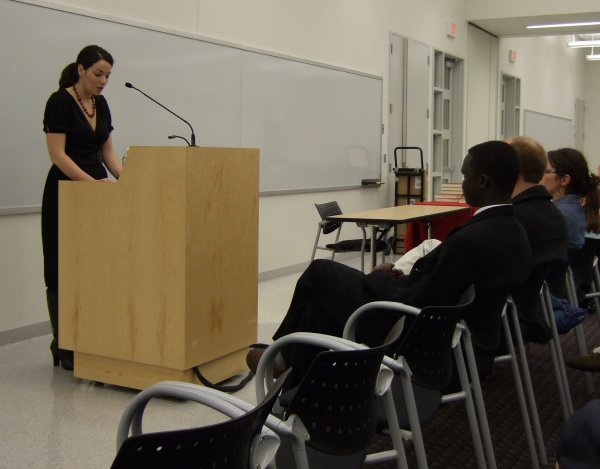 UC English Instructor Mary Hackett introduces Valentino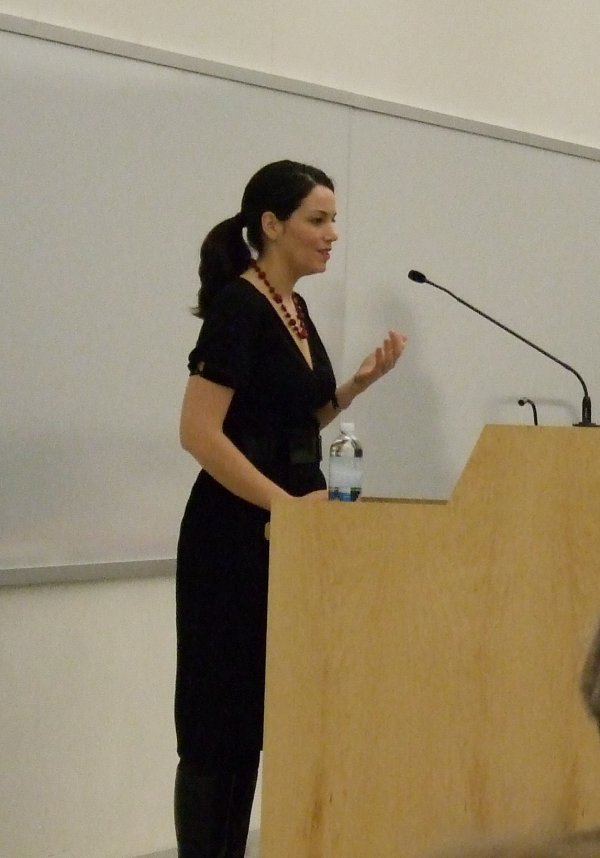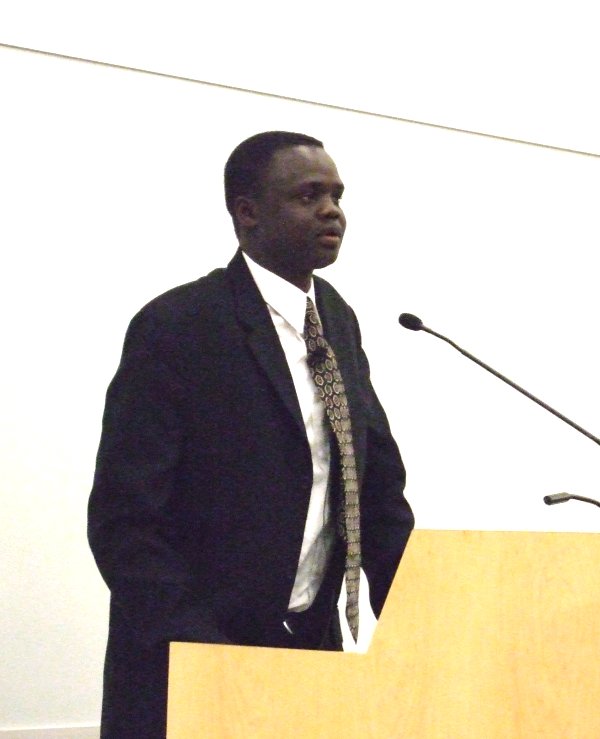 Valentino relates some of his story.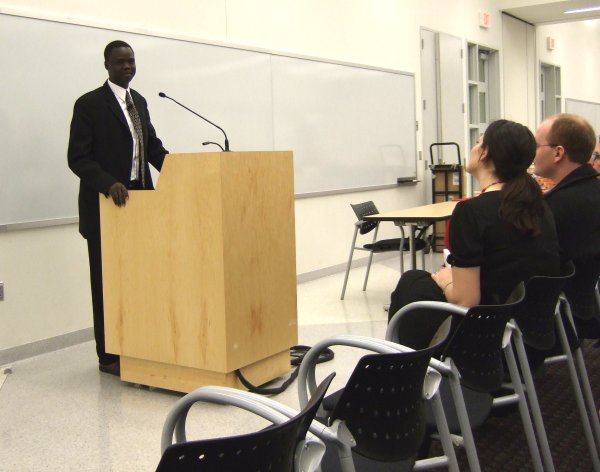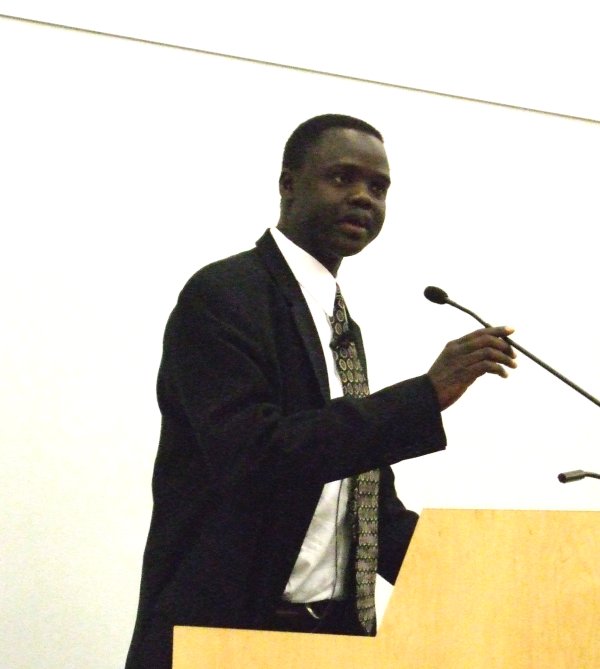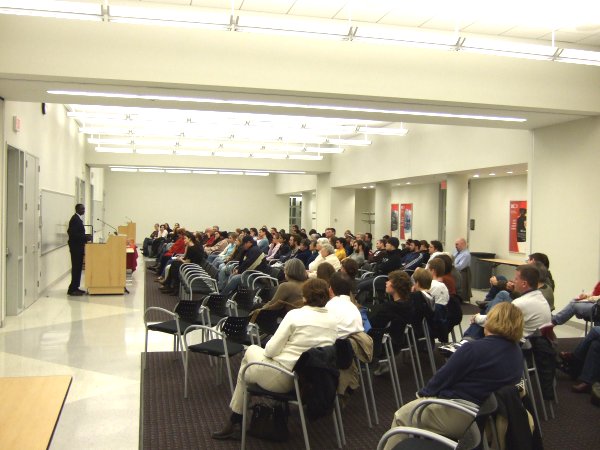 A good turnout for the talk.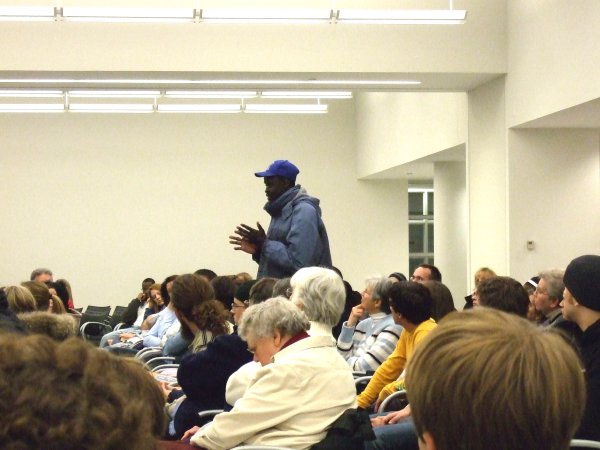 Another man from Sudan was present.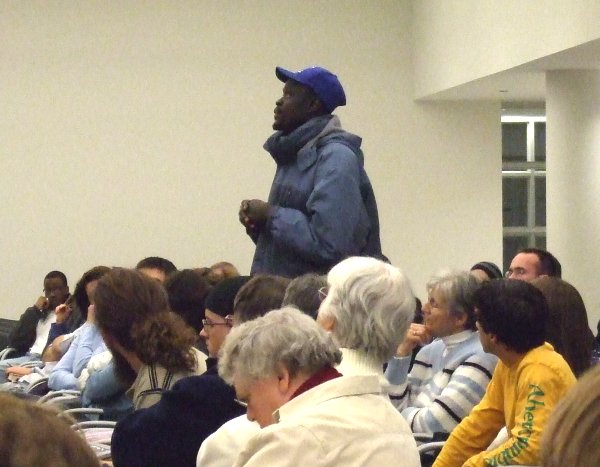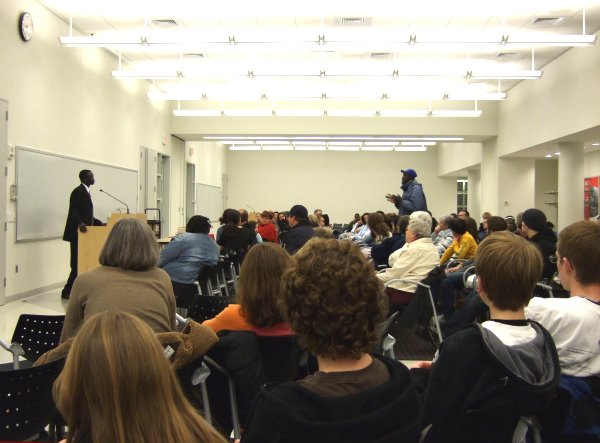 http://rodeo.cincinnati.com/getlocal/gpstory.aspx?id=100161&sid=108343
Thursday, February 15, 2007
For 23 years, the Sudanese people have been massacred by their Fundamental Islamic and corrupt government. The current genocide in Darfur has claimed nearly half-million lives - bringing the total death toll to 2.5 million Sudanese people since the onset of the war. Millions more have been displaced, brutalized, raped or enslaved. Among us in Cincinnati, there are several refugees that the U.S. government and U.N. brought here beginning in 2001.

One such survivor and International Speaker, who currently lives and attends college in Pennsylvania, will speak to the entire Cincinnati community next Wednesday.

Valentino Achak Deng is originally from Marial Bai, Sudan. As a boy of six he walked 1,000 miles to safety—without his parents—through the jungles and deserts of Africa, escaping wild animals and murderous militia men. He survived his village's massacre and journey, if only, to tell his story to the world. Like St. Valentine who healed a blind girl so that she could see and tell the world of her miracle, Valentino was so named by his baptizer so that he too would teach the world to "see" what he has seen.

He and Pulitzer-Nominated Author Dave Eggers (author of best-selling "A Heartbreaking Work of Staggering Genius") wrote about this harrowing journey in the current best-seller "What is the What."

Valentino will be at Tangeman Center at UC next Wednesday night to tell of his heroic flight to freedom. My evening class at UC and I were so moved by Val's story that we invited him to come to speak. He happily obliged—foregoing his usual speaking tour fee. All are welcome to come and hear his story. Your life will never be the same. There is no admission fee. His book will be sold at the event and all proceeds from the book go to the rebuilding of Sudan.