Generator, September 24, 2008
Last week in the Cincinnati area the tail end of hurricane Ike left over
900,000 homes and businesses went without power for several days.
At our house the power was out from Sunday afternoon to Wednesday night.
This sort of thing doesn't happen every year, but it is not uncommon, either.
So, I decided to be prepared for the next time.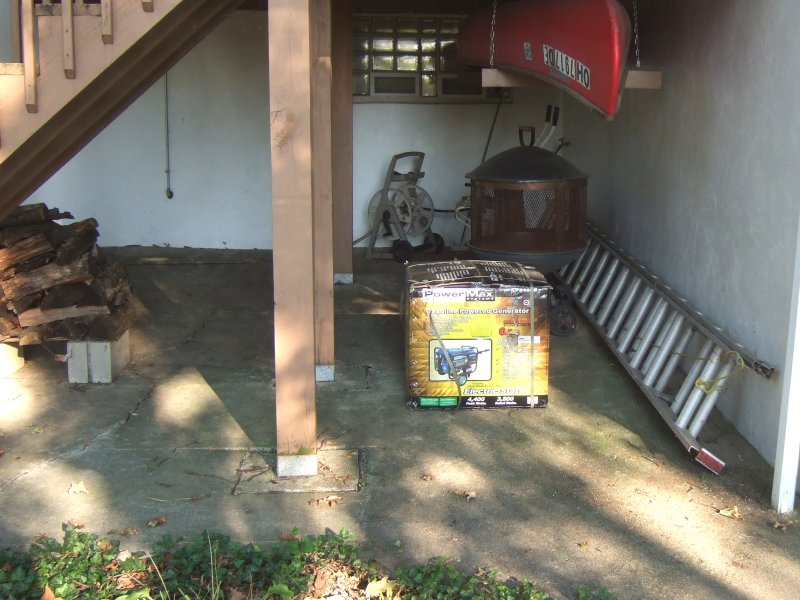 Look what FedEx left under the deck today!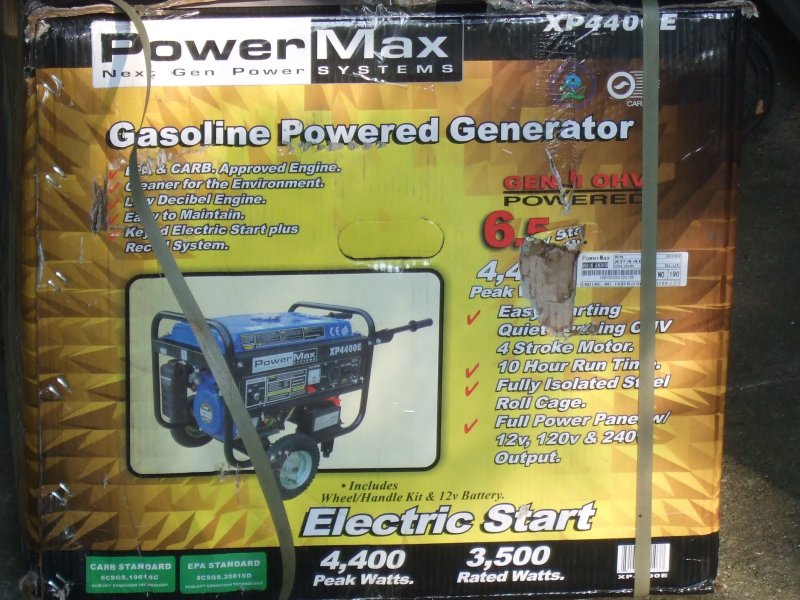 PowerMax RV Grade 4400 Watt 6.5 Hp OHV Gas Generator w/ Wheel Kit.
The XP4400 Features:
• Durable PowerMax 6.5 Hp, air cooled OHV engine with low oil shutoff .
• Heavy duty steel frame with four point fully isolated motor mounts for smooth and quiet operation.
• Wheel kit w/ front handle for easy transporting.
• Full power panel with engine shutoff switch, volt meter, circuit breaker and power outlets.
• (2) Fully protected 120V outlets & (1) 120V/240V twist-lock outlet.
• 8 Hour run time.
• All steel 3.2 gal. fuel tank with ez-read gauge..
• Low oil shut-off protects engine.
• Super quiet muffler reduces engine noise.
• Idle control holds RPM at a constant level even under heavy loads for fuel savings and noise reduction.

Specifications:
• Max AC Output: 4400 watts
• Rated AC Output: 3500 watts
• Current (120V/240VAC & 12VDC)
• (2) 120v 20A 3-prong outlets (Standard Household plug).
• (1) 120v/240v 30A twist lock (NEMA L14-30 3 Pole 4 Wire).
• Low oil shutoff.
• EPA & CARB approved engines.
• Super quiet exhaust w/ built-in spark arrestor.
• EZ-Pull Recoil start.
• 6.5 Hp air cooled OHV engine
• Fuel Tank Capacity: 3.2 gal
• Decibel: 69 dBA
• Run-Time [ @ 50% Maximum Output ]: 8.0 hrs

Includes:
• RV Switch for 30Amp 120v power to supply demanding RV needs.
• Extra large pneumatic tires.
• Flip-Up stow away Handles.
• Spark plug wrench.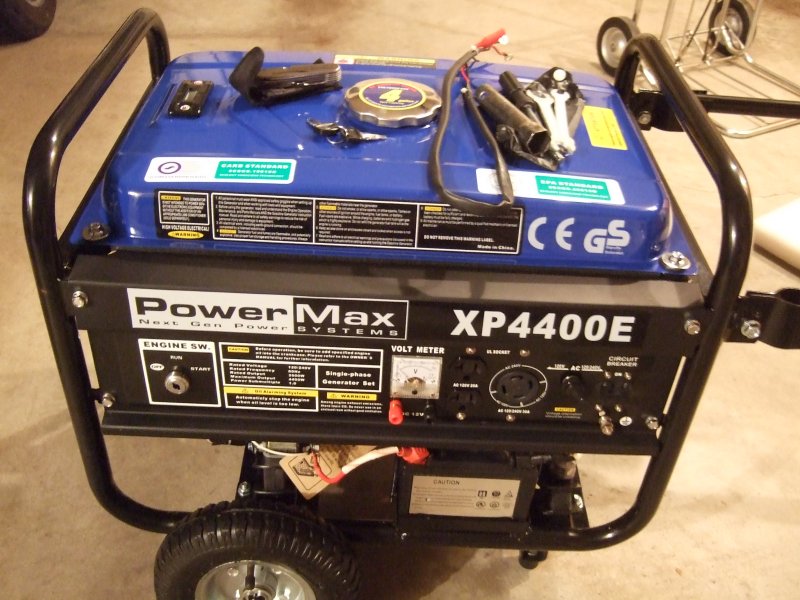 Out of the box and with the wheel kit attached.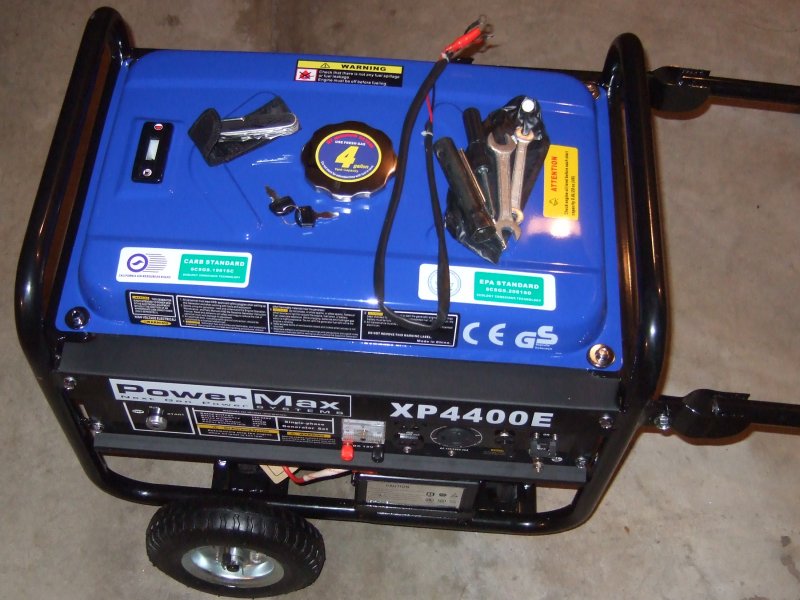 The generator came with a nifty knife, a pair of keys, a ground wire, and some tools.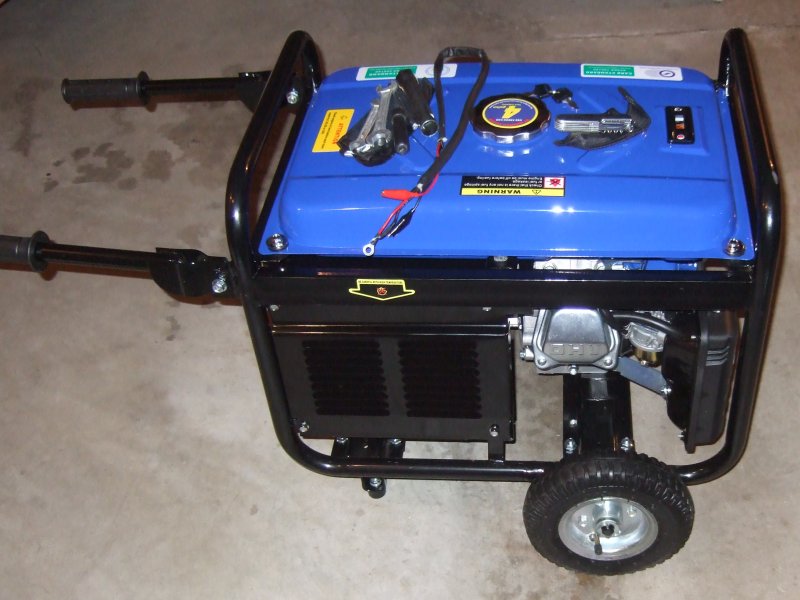 We'll start it up and figure out the maintenance issues this weekend.
With luck, we won't need to fire it up often or for long at any one time.
---
Saturday Update, Sept. 27, 2008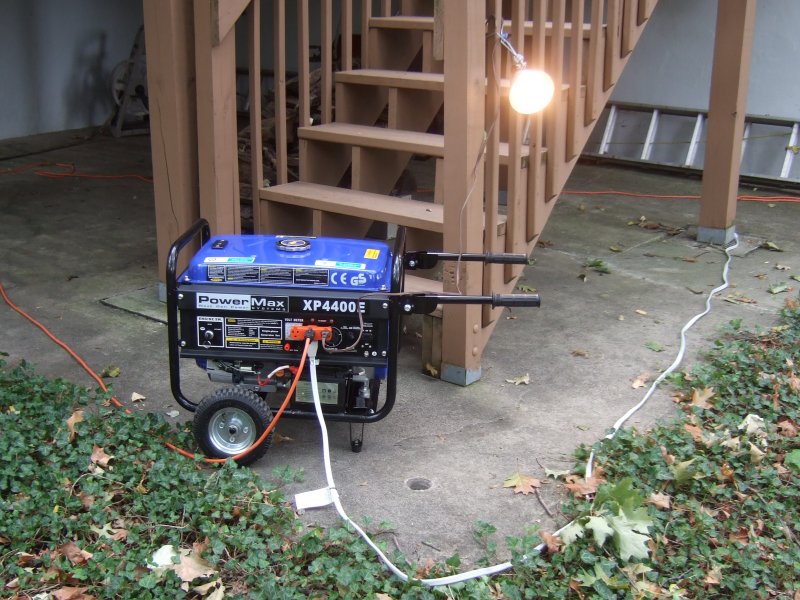 I added oil and gas, turned the key, and it started right up.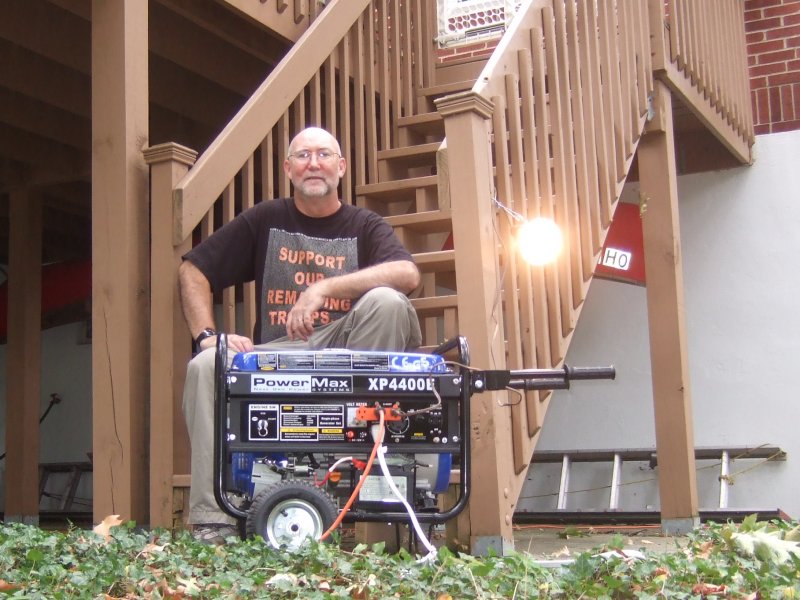 I ran a fridge, freezer, and spotlight to test the system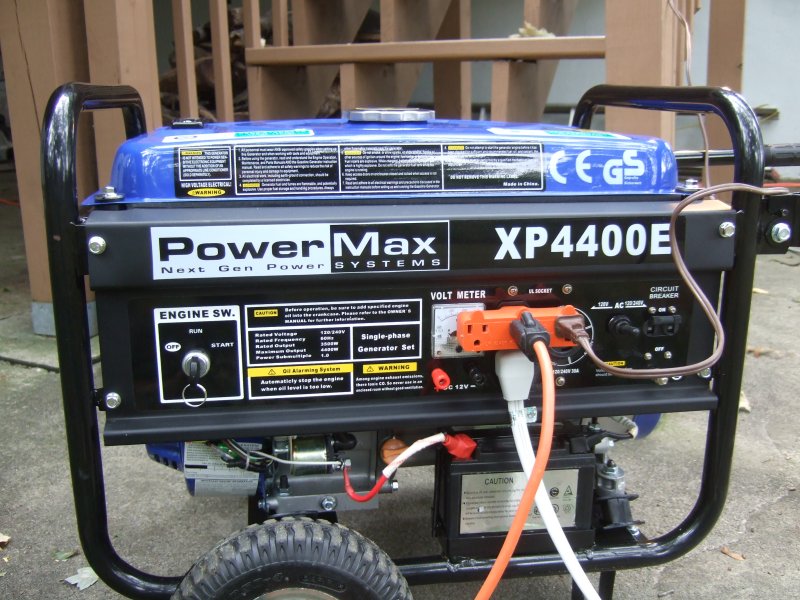 No problems!
---