Trip costs
Because of the variations in seasonal rates and competition between air carriers, we cannot quote firm pricing in our brochure. We work with all of our sources, hotels, airlines, etc. to get the best quality at the best possible pricing. Everyone is always amazed at how reasonable this unique travel opportunity is.
Please call us for more information and for current trip pricing, or to arrange a presentation to your soccer club or team.
Paulo's Brazilian Soccer
9216 Hunters Creek Drive, Apt. F
Cincinnati, OH 45242
email: PauloHBarreto@aol.com
513.891-8020
Recognition
Paulo's Brazilian Soccer program in the news: (articles highlighting the quality of the program and the fun experienced by both the players and their families).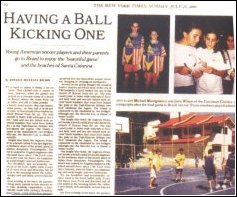 Click here for the New York Times write-up from the 2000 trip.
Click here for a write-up from the Northstar Wildcats 2001 trip.
Click here for a write-up in the Cincinnait Enquirer, March,2005